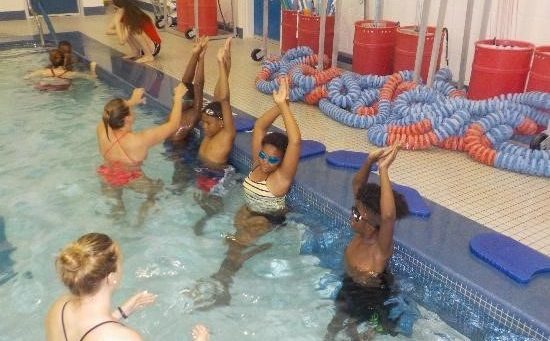 The USA Swimming Foundation and the University of Memphis conducted a recent study that shows 64% of African American children have little to no swimming ability. Furthermore, the same study showed that children of color ages 5-13 are 3.1 times more likely to drown.
To address these statistics, Columbus Property Management's Camp Upward in Washington, DC partnered with a local nonprofit to bring much-needed water safety lessons to campers. Campers from the ages 5-14 participated in one-on-one and group swimming instruction every Friday over five weeks.
The local non-profit assessed the skill levels of campers to meet them where they are to enhance their skills as well as introduced them to water safety through a fun and asset-based approach. Campers were divided into four classes based on their level of competency. The class levels included: Minnows, Guppies, Turtles, and Seals. Minnows entered the program unable to swim independently–they were very timid and skeptical of instructors. Guppies began the program ready to doggy paddle for one or two strokes alone before needing assistance from instructors. Turtles and Seals came into the program able to swim independently for a few feet but lacked the correct technique.
Deck Supervisor Taylor, who worked closely with campers and evaluated program outcomes, shared that the campers had relative growth in their swimming skills and also insight relative supported one another throughout the process.
During the time the students spent sharpening their water safety skills, they also learned a few vital life lessons. "Kids overcame fear, which helps build the ability to overcome other things in life. Trusting themselves and peers is a skill that will aid them in their life's journey," said Taylor.
Swimming can be an extremely daunting task, but with self-confidence, support, and trust from instructors and peers, the campers succeeded. These lessons instilled confidence and trust in each individual and amongst their community. Students created handmade thank you cards to express their gratitude to the staff. They look forward to utilizing the skills learned for years to come!
Here are some highlights from the Water Safety Classes:
● All campers displayed growth based on targeted goals set for their competency levels.
● 100% of Minnows improved their kicks by keeping their feet on the top of the water and their knees straight.
● 100% of Guppies began to swim at least a quarter of the pool length and could take breaths above water while swimming independently.
● 100% of Turtles and Seals learned proper swim techniques that allowed them to swim further distances more efficiently.